Our students are given guest workshops and Master Classes with teachers from around the world. Their curriculum includes:
CLASSES in Ballet, Modern, HIP HOP, Tap, and Contemporary Jazz (With electives in Pilates, Flamenco, & Irish Step Dance).

ACTING and SINGING (To round off their skills).

BUSINESS OF DANCE classes to learn how to prepare for auditions and deal with the demands of a career in dance.

PERFORMANCES in varying venues. (Former students are currently working in Television, Film, Stage, & with Dance Companies).

EXPOSURE to numerous professionals in the San Diego Dance community. (APA is the training ground for many of San Diego's professional dance artists. APA is also host to numerous auditions and rehearsals).
---
Scholarship Class Requirements (currently enrolled University or High School dance majors will have augmented requirements. With approval, dance major classes will be given credit toward APA requirements):
You will be required to attend a minimum of 10 classes per week.

3 Ballet (Men required to take Tech & Pas de Duex @ City Ballet on Thursdays 5-7pm)
2 Modern
2 Jazz
1 Hip-Hop
1 Tap
1 Elective
SUNDAY REQUIRED CLASS 1:30-4:30pm PLUS rehearsals TBA
---
Apprenticeship Class Requirements (currently employed professional dancers will have augmented requirements. With approval, professional engagements will be given credit toward APA requirements)::
You will be required to attend a minimum of 10 classes per week.

3 Ballet
2 Modern
2 Jazz
1 Hip-Hop
1 Tap
1 Elective
SUNDAY REQUIRED CLASS 3-6pm
Apprenticeship is specifically designed for dancers that are ready for professional work now. The emphasis for this program is CV/resume building projects with the aid of the companies in residence and APA as a whole.
Scholarship workshop classes are part of the training at APA. An additional fee may be charged. The Acting & Singing Workshops are mandatory for scholarship students! Voice or Acting count as an elective.
Missed shifts at the front desk will require payment to the coordinator @ $15.00 per each hour of your shift!
Missed classes must be made up the following week. For example, if you miss two classes they must be made up the following week in addition to your ten weekly classes.
If you are unable to dance due to an injury you are still required to watch class and take notes.
Failure to perform duties and/or meet scholarship responsibilities will result in payment for classes you missed and/or scholarship termination.
---
OTHER Scholarship & Apprenticeship Requirements
There will be a $50.00 monthly tuition to cover the operating costs of unlimited dance classes as well as "scholarship/apprenticeship only workshops". There may be a charge for special workshops, but in most cases tuition should cover EVERYTHING. These fees are simply to cover the cost of the teachers, but will be at 1/2 the price of the regular students and vary from term to term.
Students should 16-24 years of age (some exceptions will be made), and already dancing at an intermediate level. Participants attending high school must maintain a "B" grade point average. Report cards may be requested by the directors.
As a respected and honored member of the Academy of Performing Arts scholarship program, you agree to conduct yourself as a professional in and outside of class. Therefore, all students will wear the proper attire and shoes for class. Socks may not be used for Ballet or Jazz classes. If you are in training you must invest in the necessary equipment (contracts disclose details).
You may not accept any professional dance or theatrical work; or be a member of any dance group without the permission of APA.
Students are required to participate in all APA scheduled events (i.e., APA showcases, DAY OF DANCE, etc...).
A minimum of 5 hours per week of front desk work, maintenance work, or support activities is required.
A positive attitude is a must! Just remember that your attitude affects everyone in the studio! APA prides itself on being a warm and welcoming institution.
---
Work-Study Program: Students are required to work one hour in exchange for each class they attend within a week. This program allows up to five classes to be taken in exchange for the work done. Classes taken in excess of the work performed will be billed to the student at COLLEGE STUDENT RATES. - Credit Cards, or ACH will be kept on file to ensure proper remuneration to APA.
---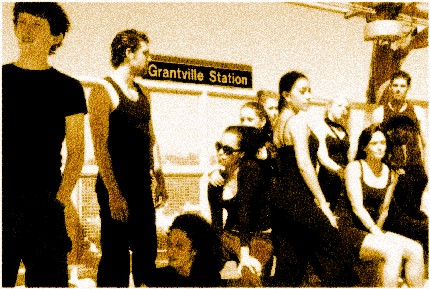 Click here for places of interest in the arts (including audition notices)